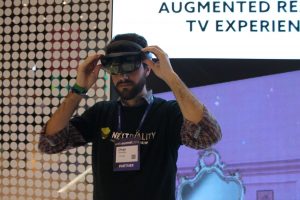 The future of TV was presented at Web Summit 2016, with the NOS Augmented Reality TV Experience! NOS is taking the first steps to innovate and create a future in which the TV screen will be entirely reinvented, thanks to Augmented Reality.
So, it was with the greatest enthusiasm that we participated on this year's edition of Web Summit to present the NOS Augmented Reality TV Experience, created for the Microsoft HoloLens by IT People Innovation.
With this holo app for the smartglasses HoloLens, it becomes possible to live an interactive experience of «watching TV» that is both totally personalized and immersive – the user can project onto the surrounding space, whatever it may be, any TV content, essentially the world becomes your screen.
Talk to us to know to learn more about our Augmented Reality solutions for the Microsoft HoloLens!